£75 off Eglus and Free Delivery!
Omlet resident bunnies Basil and Bay love living in their Eglu. They can pop in and out of their house as they please and hop around safely all day, nibbling grass and watching the world go by. We would like to give every rabbit and guinea pig the chance to live in an Eglu, so read about our exciting new offer below!
The Omlet Wooden Hutch Trade-In!
Send us a photo of your wooden rabbit or guinea pig hutch and we will give you £75 off the Rabbit or Guinea Pig Eglu of your choice. We will even throw in free delivery, saving you a total of £95. Now that's a rabbity good deal!
The Wooden Hutch Trade In will only run until the end of June, so hop along if you want to take advantage of this offer. Just email your photo to info@omlet.co.uk by June 30th and we'll give you your discount!

Basil and Bay carrot wait to give other bunnies the chance to live in an Eglu!
Miriam and the Hens
While most kids were busy playing during half term, one Eglu Owner in Huddersfield used her week off school to do something really special. She wrote a book!
Nine year old Abi Archer wrote a story called 'Miriam and the Hens', starring her little sister, Eglu and chickens. The story is told through the eyes of toddler Miriam, showing the eggcitement and entertainment that keeping chickens can bring. It is a lovely tale, with colour photos and drawings, and Abi plans to write a follow up about her hamster and Qute soon.
Abi wrote this book to raise money for charity, to support a school in Mara, Tanzania. There are 100 copies and she has already sold 30 of them, so she's doing well. If you would like to buy a copy you can email her Mum, Joanne. It costs £4, including p&p, and it's for a cracking cause!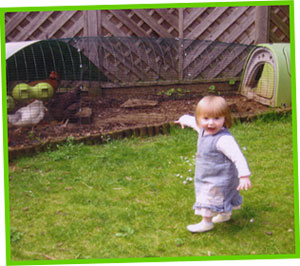 Miriam and hens are the stars of Abi's bok-bok-book.
How to Live Like a Hamster
Have you ever wondered what life would be like if you were a hamster? Well if you take a trip to the French city of Nantes you'll be able to find out! Believe it or not, one hotel in this theatrical city is designed to be like a hamster cage.
That may seem odd enough, but things get more and more peculiar... At La Villa Hamster each room is equipped with a giant hamster wheel to run in, a cage-like loft bed to climb into (by ladder), hanging oats to nibble on and a water tube to drink from. If you choose to stay there you won't find a tv in your room, but there is a large, wind-up rodent and some hamster headwear to keep you entertained.
It's proved a popular hotel with people from all over, so, we wonder, what about a hotel that looks like an Eglu?

Have a wheely good time at the hamster hotel!